Cost: $85 per person
Duration: 9:00am – 12:30pm
Days of Operation: Tue – Wed – Thur – Fri – Sat
Included: Professional Tour Guide, Mercedes Sprinter Van, Admissions, & Water
Requirements: Min of 4 or more to operate
Pick up schedule and locations:
Stop #1 – 8:30 am – Valley River Inn (meet in hotel lobby)
Stop #2 – 8:45 am – Hyatt Place Hotel Eugene/Oakway Center (meet at ground floor level doors)
Stop #3 – 9:00 am – 5th Street Public Market (meet at the rooster fountain in the center of the main level courtyard)
Loading…
TOUR DESCRIPTION
Come join us as we tour some of Eugene's Historic Districts,  Vistas, Hayward Field, Nike history, and so much more! Your professional Tour Guide will provide commentary to bring your tour to life making sure you receive a very comprehensive and fun experience touring Eugene.
ITINERARY: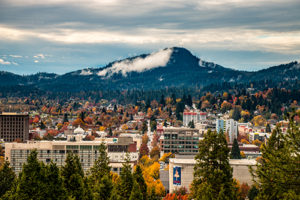 SKINNER'S BUTTE PARK & SUMMIT:
The history of Skinner's Butte and all of the Eugene area goes back some 30 million years ago when a warm shallow sea receded from the valley and became permanently above water. Today, Skinner's Butte is one of the best viewpoints overlooking the city of Eugene and Cascade Mountains and is still functioning as Eugene's drinking water reservoir.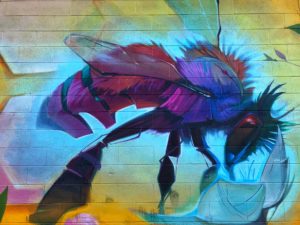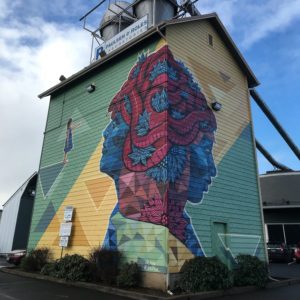 WHITEAKER NEIGHBORHOOD:
On the west end of Eugene, we will visit a neighborhood that has gone through an incredible transition from dilapidated houses and an anarchist hot spot, to a new generation of artist and young entrepreneurs taking ownership in this renewed districts for shops, boutiques, galleries, restaurants, wine shops and breweries.  "Only in this neighborhood could I get away with stepping out in my robe and people not thinking you're a little eccentric", says one local.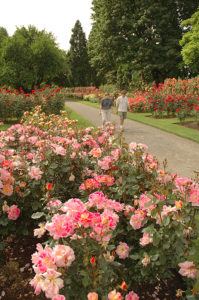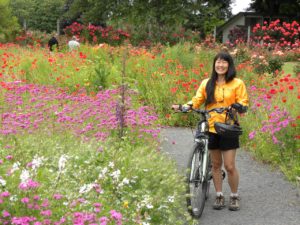 OWEN ROSE GARDEN (seasonal):
In 1951 George E. Owen, a former Eugene city councilor and lumberman, donated five acres and his house to the city. This original collection has expanded into a panorama of more than 4,500 roses and over 400 varieties. The rose garden features the nationally recognized Oregon Heritage Cherry Tree and an impressive collection of heritage and heirloom roses.
Bowerman's Lab:
Bowerman's Lab is a hidden gem in Eugene; it was a space Bill Bowerman created to work on the design and construction of some of the very first Nike shoes. The location was all part of Bowerman's plan, and his location choice helped lead him to some of his greatest innovations.  We will drive past the lab and you will learn about the history making innovations that happened there.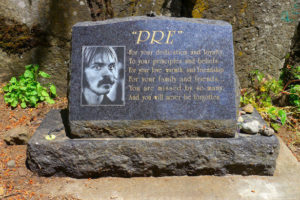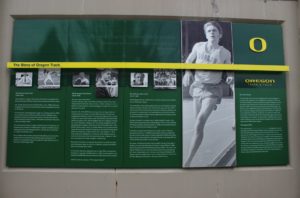 Pre's Rock: Athletes come from all over to pay respects to the cocky runner who at the time of his death held every American record from 2,000 to 10,000 meters. They leave medals, flowers, shirts, energy bars, and handwritten notes, and sometimes just quietly reflect at the stone that memorializes Steve Prefontaine, who was only 24 when he died. Moments spent at the slab have been referred to as the Church of Pre; it's a compulsory pilgrimage for runners all over the world.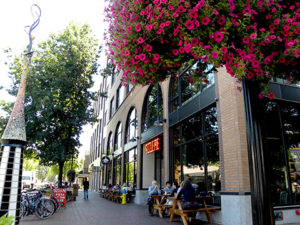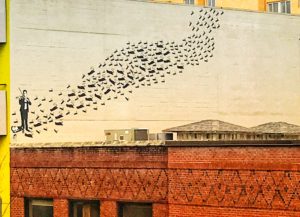 TRENDY DOWNTOWN BROADWAY STREET:
Drive through Eugene's original outdoor walking mall, converted to a car friendly access street parking allowing new business to thrive and showcase beautiful storefronts, fun eateries and local popular hangout with street entertainment, culture and more. Not to mention Portland's favorite donut shop, Voodoo Donuts.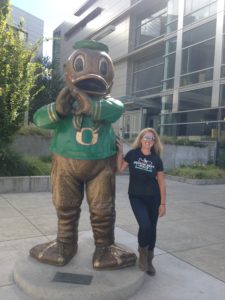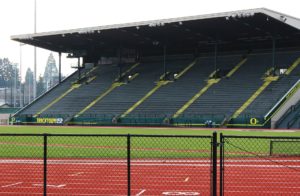 UNIVERSITY OF OREGON CAMPUS AND HAYWARD FIELD – TRACK TOWN USA:
One of Oregon's oldest higher education universities (1876), U of O campus is just as beautiful as historic with Heritage trees, Historic buildings and now today, some of the newest modern  facilities and sport venues. Most renowned is the birthplace of Nike and the namesake, Track Town USA on Hayward Field. Track has been in the forefront since 1895 starting with a dirt track evolving into one of the most famous track and field facilities in the nation. It has been the site for three Olympic Trials and nine NCAA Championships, most recent in 2001. Hayward field has been awarded the site for 2019 World T&F Championships and 2021 IAAF World Championship competitions. You will visit Hayward Field which is currently under renovation in preparation for the Track & Field World Athletic Championships in 2021. We will also stop at the amazing 8 foot tall bronze statue of University of Oregon's mascot where you will be able to take awesome pictures to share with your friends and family!
 CASCADES RAPTOR CENTER:
The Cascades Raptor Center has one of the largest collections of native raptor species in the Pacific Northwest. Visitors can view nearly 50 birds of prey in large outdoor aviaries. The Cascades Raptor Center's Wildlife Hospital provides high quality medical treatment and rehabilitation to over 250 sick, injured, and orphaned birds each year. Throughout and overall, we are the naturalists, utilizing knowledge of species identification, normal habitat, diet, and behavior, as well as nesting, migrating, and foraging habits. And, finally, we have the difficult decisions to make: can we release a bird? Is its recovery complete enough to ensure a successful return to the wild – able to fly, catch food, find and defend a territory, attract a mate, reproduce, and migrate, as appropriate to its species?
Come take our tour to learn the answer!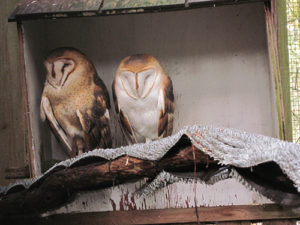 _________________________________________________
Customized and Private Tours: All tours can be customized and/or made private. Please contact us for details and pricing.
Tour Price Includes: Pick up & Drop off, Transportation and Tour guide.
Not Included in Price: Gratuity
Requirements: Tours require 2 person minimum for confirmation. Please contact us for current status of tour.
Payment: On-line reservations can be made or via phone using a credit or debit card. Payment will be processed immediately to secure your reservation. Payment on day of pick up will not guarantee your reservation. Cash payments are accepted at time of tour.
Cancellation Policy: If you cancel at least 7 day(s) in advance of the scheduled departure, there is no cancellation fee. If you cancel between 3 and 6 day(s) in advance of the scheduled departure, there is a 50 percent cancellation fee. If you cancel within 2 day(s) of the scheduled departure, there is a 100 percent cancellation fee.
Reservations: All reservations are final at time of booking. We recommend two weeks in advance for reservations especially during our high volume seasons. Walk-ins please call to confirm departure and availability.
Terms and Conditions
I. Other Entities: America's Hub World Tours (AHWT) will not be held responsible for cancelations, changes to services/fees/price, conduct, of quality of goods and services for entities that operate under any name other than AHWT including, but not limited to: vendors, tour operators, vineyards and wineries, event staff, hotels, transportation companies, restaurants and entertainers.
II. Weather – Unless otherwise noted and specified all services are planned to operate regardless of weather. In the event of an "Act of God" and weather presents a safety issue AHWT will offer other tours to consider. There will be no reimbursements, full or partial, for inclement weather experienced during any service provided. It is the responsibility of the guests to be prepared for predicted weather and dress accordingly.
III. Conduct –AHWT assumes no responsibility for conduct of individuals other than its guides/employees/officers.
Indemnify: Except as otherwise prohibited by law each party shall indemnify and hold the other party harmless from all claims, actions, suits, losses, and expenses of any nature for its employees or subcontractors, breach of their agreement, negligence or intentional misconduct.
Insurance: America's Hub World Tours (AHWT), will ensure all tour operators, and bus companies provide insurance coverage for all vehicles utilized while providing services.
Cancellation Policy: If you cancel at least 7 day(s) in advance of the scheduled departure, there is no cancellation fee.
If you cancel between 3 and 6 day(s) in advance of the scheduled departure,there is a 50% cancellation fee.
If you cancel within 2 day(s) of the scheduled departure, there is a 100 percent cancellation fee.
No smoking in Vehicles; No alcohol drinking in vehicles! Not responsible for articles left in vehicles! There will be a $200 minimum damage/cleaning charge resulting from customer misuse. All passengers are responsible and liable for their own actions while in this vehicle; neither the driver nor the company is responsible or liable for any injury or damage caused by or as a result of any customer actions. We are not in control of the traffic and therefore take no responsibility for time issues due to traffic.
The state of Oregon requires all parents with children requiring car seats to use them. Child passengers must be restrained in approved child safety seats until they weigh forty pounds or reach the upper weight limit for the car seat in use. Infants must ride rear-facing until they reach both one year of age AND twenty pounds. We do not supply car seats; if you did not bring one the hotel can recommend rental locations. Some will deliver to hotels.
Oregon Tour Experts, and other local partners in collaboration with America's Hub World Tours are offering to bring you the best and most complete tour experience available.