Cost: Contact us
Duration: 3 days / 2 nights
Months available: June to October
Dates Available: Custom dates for groups
Included: Professional Tour Guide, Mercedes Sprinter Van, 2-night double occupancy hotel room, breakfast daily at hotel, Performance Tickets, Entrance Fees
Requirements: For groups of 6 or more only
Pick up schedule and locations:
Stop #1 – 8:30 am – Valley River Inn (meet in hotel lobby)
Stop #2 – 8:45 am – Hyatt Place Hotel Eugene/Oakway Center (meet at ground floor level doors)
Stop #3 – 9:00 am – 5th Street Public Market (meet at the rooster fountain in the center of the main level courtyard)
Day 1: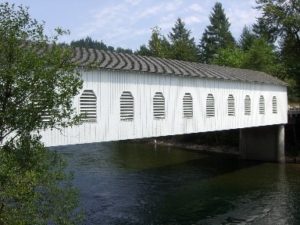 Upon departure from Eugene, we will drive over the historic Goodpasture Covered Bridge and you will have the opportunity to photograph it! This quintessential covered bridge is Oregon's most frequently photographed covered bridge – and it's easy to see why. Excellent vantage points along Hwy 126 showcase the bridge's elegant 165 foot (50 m) span across the scenic McKenzie River. The bridge itself is well crafted with attention to architectural details and classic style.  It is also the second longest covered bridge in Oregon (the first is Office Bridge in Westfir).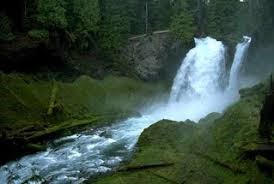 Our next stop of the day will be at Sahalie Falls.  Sahalie (or "Heaven" in the Chinook language) is a mass of foaming white water plunging 100 feet (30 m) over a natural lava dam.  Take an easy walk through forests of 6-foot-thick Douglas fir and droopy-limbed red cedar to see this beautiful waterfall. These famous falls can be spotted in Disney's movie Homeward Bound.
Next, we will drive to the town of Sisters, where you will have free time to explore the quaint downtown and have lunch at one of the amazing restaurants.  Sisters is a charming town with an 1880's western theme and the shops in this town are anything but old-fashioned. Well-known artists work graces downtown Sisters in a variety of galleries and shops. Find your treasure at one of the antique shops or the perfect gift at one of the many specialty stores.
Upon our arrival in Bend we will visit the High Desert Museum.  This unique museum reveals the natural world and cultural history of the West's High Desert region through artful exhibits, alluring animals, engaging programs and meaningful history.  Discover why they're rated the #1 Thing to Do in Bend by TripAdvisor!
Day 2:
Upon arrival at Crater Lake we will spend the day visiting all the incredible vistas, visitor centers, and overlooks.   Crater Lake has inspired people for thousands of years with some of the 1st Native Americans who discovered its beauty and mystique. No place else on earth combines a deep, pure lake, so blue in color; steep surrounding cliffs almost two thousand feet high; two unique picturesque islands; and a violent volcanic past. It is a place of immeasurable beauty and the Nation's deepest lake over 1,900 feet deep.
Our day will end in the wonderful town of Ashland Oregon.  Tonight you will have the option of enjoying a play at the Oregon Shakespeare Festival. Each season celebrates OSF's ongoing commitment to the work of Shakespeare, imaginative adaptations of beloved classics and illuminating new plays.
Day 3: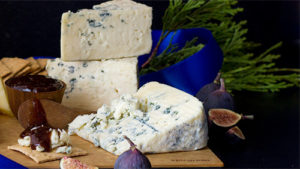 Today we will leave Ashland and make our way back to Eugene. This morning we will stop at a local creamery who's Blue Cheese recently won "Best in the World" and The World Cheese Awards, held in Bergamo, Italy.  While here you will learn how they make their cheese and be able to sample and buy some if you want.  Make sure not to leave without trying their blue cheese and honey grilled sandwich!
We will also stop at a wildlife safari where you will be able to have an up close interaction with amazing animals and as we drive through the safari get up close to Ostrich, Watusi cattle, Lions and Zebra. We will also venture through the homes of hippos and the land of the scimitar horned oryx. Your Safari journey will take you through Southern Africa where the Rhino and Giraffe rule. Carry on to interpretive wetlands, cleaning the local waters in reaffirmation of our commitment to the soil before venturing into the land of bears, bison and elk within the sprawling canyon forests of North America. We will end our journey here with a trip through a carnivore loop featuring Wildlife Safari's top cheetah breeding grounds and ferocious Sumatran Tigers.
Upon arrival in Eugene we will drop you either at your hotel (hotel reservation not included tonight) or at the Eugene Airport so that you can fly home.
________________________________________________________________________________________________
Customized and Private Tours: All tours can be customized and/or made private. Please contact us for details and pricing.
Tour Price Includes: Pick up & Drop off, Transportation and Tour Guide. All applicable fees, unless otherwise stated.
Not Included in Price: Gratuity and lunch. You will have an opportunity to purchase lunch and/or snack.
Requirements: Tours require 2 person minimum for confirmation. Please contact us for current status of tour.
Payment: On-line reservations can be made or via phone using a credit or debit card. Payment will be processed immediately to secure your reservation. Payment on day of pick up will not guarantee your reservation. Cash payments are accepted at time of tour.
Reservations: All reservations are final at time of booking. We recommend two weeks in advance for reservations especially during our high volume seasons. Walk-ins please call to confirm departure and availability.
Multi-day tour cancellation policy:  Cancellation, Refunds and Changes: The guest may cancel the services at any time, but will be required to pay the applicable cancellation charges up to the maximum shown below:
61-90 days prior to event 75% refund of final total tour/package cost
31-60 days prior to event 50% return of final total tour/ package cost
30 days or less prior to departure 10% return of final total tour/package cost
Cancelled reservations may be re-booked subject to availability.
Terms and Conditions
I. Other Entities: America's Hub World Tours (AHWT) will not be held responsible for cancelations, changes to services/fees/price, conduct, of quality of goods and services for entities that operate under any name other than AHWT including, but not limited to: vendors, tour operators, vineyards and wineries, event staff, hotels, transportation companies, restaurants and entertainers.
II. Weather – Unless otherwise noted and specified all services are planned to operate regardless of weather. In the event of an "Act of God" and weather presents a safety issue AHWT will offer other tours to consider. There will be no reimbursements, full or partial, for inclement weather experienced during any service provided. It is the responsibility of the guests to be prepared for predicted weather and dress accordingly.
III. Conduct –AHWT assumes no responsibility for conduct of individuals other than its guides/employees/officers.
Indemnify: Except as otherwise prohibited by law each party shall indemnify and hold the other party harmless from all claims, actions, suits, losses, and expenses of any nature for its employees or subcontractors, breach of their agreement, negligence or intentional misconduct.
Insurance: America's Hub World Tours (AHWT), will ensure all tour operators, and bus companies provide insurance coverage for all vehicles utilized while providing services.
No smoking in Vehicles; No alcohol drinking in vehicles! Not responsible for articles left in vehicles! There will be a $200 minimum damage/cleaning charge resulting from customer misuse. All passengers are responsible and liable for their own actions while in this vehicle; neither the driver nor the company is responsible or liable for any injury or damage caused by or as a result of any customer actions. We are not in control of the traffic and therefore take no responsibility for time issues due to traffic.
The state of Oregon requires all parents with children requiring car seats to use them. Child passengers must be restrained in approved child safety seats until they weigh forty pounds or reach the upper weight limit for the car seat in use. Infants must ride rear-facing until they reach both one year of age AND twenty pounds. We do not supply car seats; if you did not bring one the hotel can recommend rental locations. Some will deliver to hotels.
Oregon Tour Experts, and other local partners in collaboration with America's Hub World Tours are offering to bring you the best and most complete tour experience available.
For more information regarding the many other tours we offer please visit us at: www.americashubworldtours.com